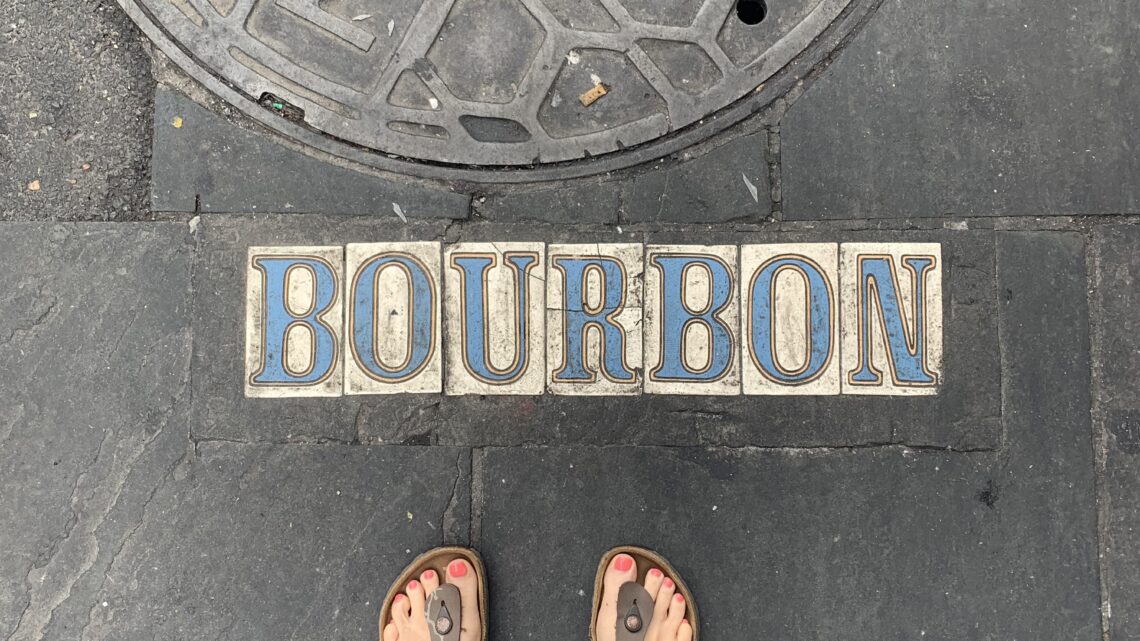 The Big Easy: New Orleans, Louisana (#15)
The first time I set foot in New Orleans, I was a young twenty something, post grad, ready for my first Mardi Gras Adventure. I went with, my then roommate, Katrina to visit one of our older roommates, who was currently in Law School at LSU. We didn't really have a solid plan, which didn't seem to be a problem at the time, but it did mean sleeping on a couch at a Tulane Frat House. All I really remember about that trip was the parade, the drinking, the beads and the boobs. This time, with my trusty run friend, Lauren, we planned on seeing more of what makes this city special, while also running a half marathon.
Besides Mardi Gras, New Orleans is best known for Jazz, amazing food, art, history and culture. And no trip is complete without a visit to the French Quarter, the most historic and vibrant neighborhood. Our Hotel was just on the outskirts of the French quarter, which made it very accessible to the rest of the city. New Orleans is a very walkable city, but they also have a streetcar system that happened to have a stop just outside our hotel door, which made exploring farther neighborhoods easier.
Once I got to the city after flight delays galore, we started out by simply walking around and exploring the streets with no specific plan. From the hotel, we walked a few blocks toward Royal Street to catch a few of the scenic highlights. The LaBranche House – 700 Royal St. is considered a historical landmark, and is the most photographed building in the French Quarter. Built in the 1830's, it's most know for its lacy, iron grill work.
We continued down Royal while being serenaded by one of the many New Orleans Jazz street bands. When couples get married here in New Orleans, it is customary to take the party to the streets, where they dance and drink with their guests, while being escorted by a local Jazz Band. We saw quite a few of these play out while we were here. It felt like the quintessential New Orleans experience. We continued walking down Royal St. toward the Cornstalk Hotel – 915 Royal St. This is a boutique hotel, set in an elegant 1816 mansion. (Note: The hotel has been temporarily closed since Covid) We didn't go in, but it gets its name from an iron fence surrounding the property in the shape of corn stalks.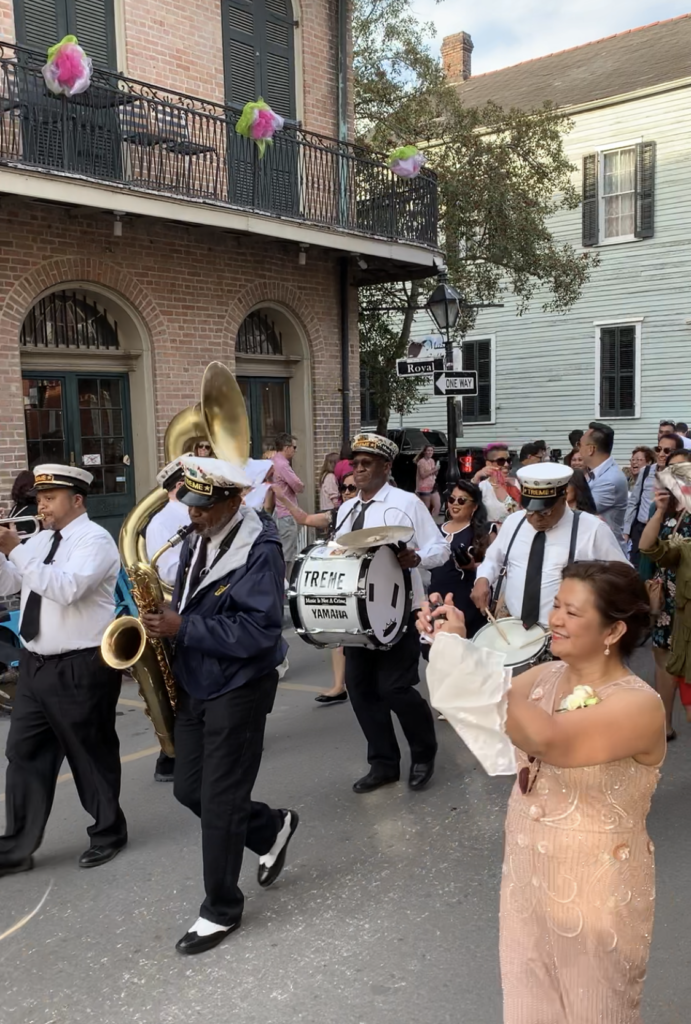 We continued our walk down to the Mississippi River. There is a great walkway along the river to walk or  run. From there, we made our way to Jackson Square, site of the Louisiana Purchase. There is an overlook on Decatur Street that offers an amazing view of the square, including Saint Louis Cathedral – 615 Pere Antoine Alley. This Cathedral is the oldest Catholic Cathedral in North America.
At this point, we were getting a little hungry, so we made our way to Frenchman Street, best known for its many live music venues. While looking for a place with some food and live music we came across the Art Garden – 613 Frenchman St. It's a boutique open air art market that is hidden behind a tall wooden fence. Some of the restaurant/clubs that were recommended by friends were not quite hopping yet, so we found ourselves at The Maison – 508 Frenchman St. We got a table with a great view of the Smoking Time Jazz Club playing some great traditional jazz music. The restaurant had some great New Orleans classics. I ordered the Jambalaya and even though I picked around the sausage, the flavors were amazing and I highly recommend.
After dinner, we walked back to the hotel back through the streets, taking in all the music and culture New Orleans has to offer.
Bright and Early the next morning, we took a short walk to Louis Armstrong Park – 701 N. Rampart St. for the start of the Best Damn Race Half Marathon. The park is dedicated to the tradition of Jazz in the City. Located in the Treme neighboorhood, the birthplace of many of New Orleans's most famous Jazz Musicians including Louis Armstrong.
The race itself was kind of boring. None if it went through the French Quarter and parts of it went through areas that seemed like they were just trying to add miles. There was also no music!! And although it was only March, it was so HUMID! I wouldn't necessarily recommend this race, but it was good enough to check off another state. The medal was pretty cool though, and it glows in the dark!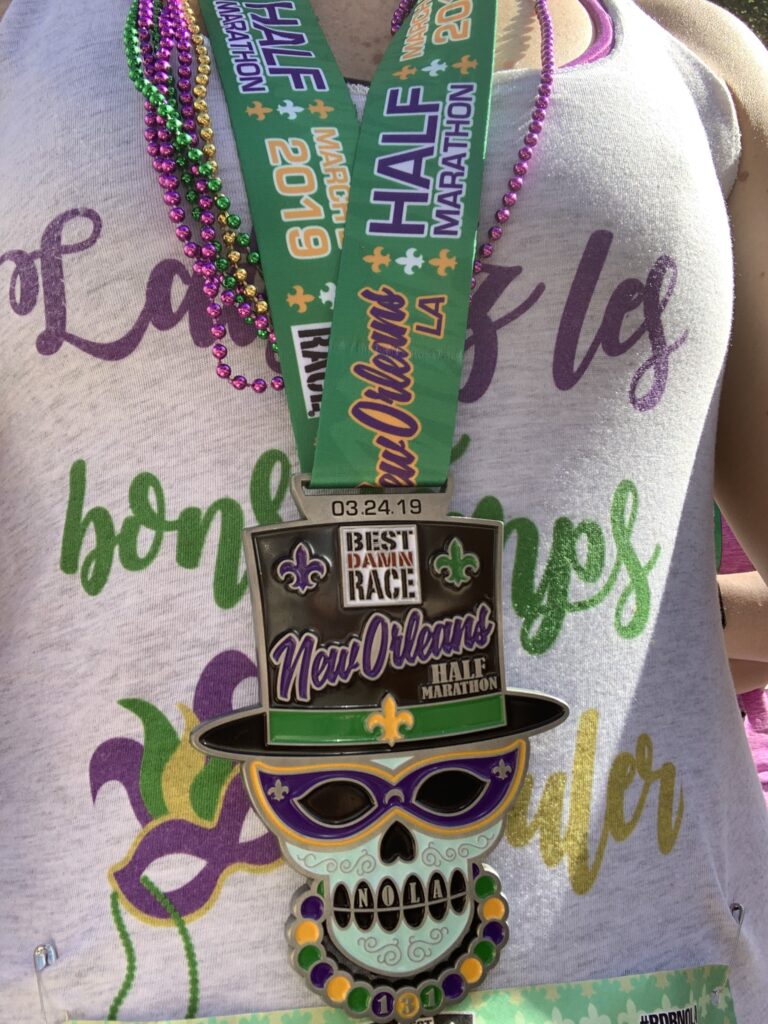 The vacation part of these runcations really begins once the race is over. First stop, Cafe DuMonde – 800 Decatur St. No trip to New Orleans is complete without Beignets. If you don't know, Cafe DuMonde is the Original French market coffee shop whose primary focus is on delicious squares of fried dough covered in powdered sugar. It's very much like funnel cake, but a little bit lighter. There is usually a VERY long line to get into the "restaurant", but the locals tipped us off to a side door, down on the left, where we just walked in and found quite a few empty tables. Cafe DuMonde is cash only, but $2.73 for 3 Beignets is a steal if you ask me.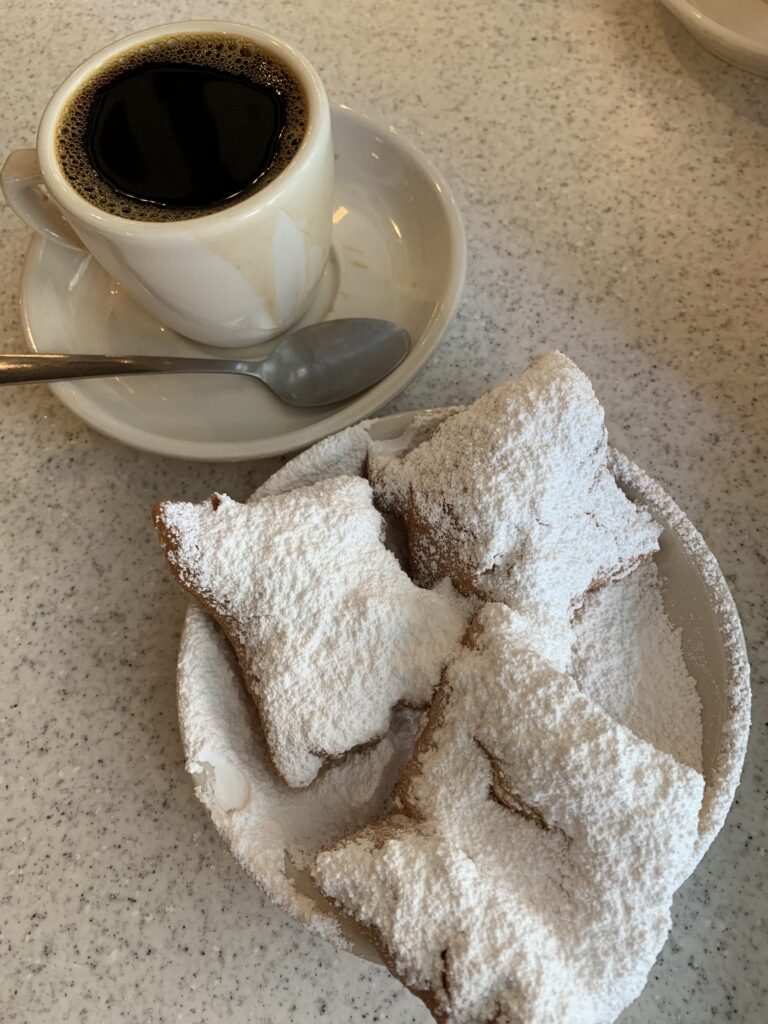 Beignets and Coffee
Next stop…Big Easy Daiquiris – 617 Decatur St. for some frozen drinks. I opted for a mix of peach bellini and strawberry daiquiri. With drinks in hand we continued to walk around and take in all the live street music. There are so many side streets to explore, with so many colorful houses. It looks exactly how you imagine New Orleans would look.
Later in the afternoon, we made our way to the Garden District. This neighborhood is one of the best preserved collections of historic mansions. We took one of the famous St. Charles Cable Cars down Washington Street toward Lafayette Cemetery No. 1 – 1427 Washington St. Cemeteries are very popular in New Orleans. Mostly because of their rich history, but also because the dead are mostly buried in crypts above ground. This particular cemetery is one of the oldest. It has guided tours, but we opted to walk around on our own. (It is currently closed for routine maintenance.)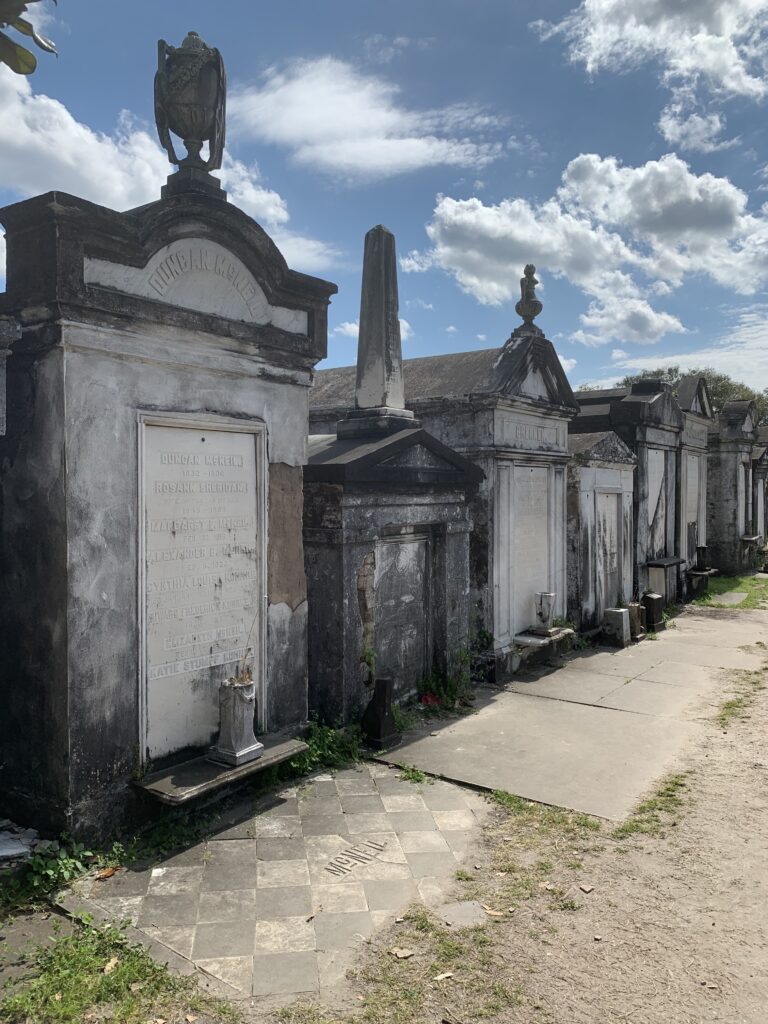 Across the street is the famed Commanders Palace – 1403 Washington St. It's a higher end place to have food and drinks. We were going to stop in for a drink, but they seemed to be having a private event, so we skipped it. I've heard great things, but it seemed a little too fancy for my tastes.
From there we continued down Magazine Street for some light snacks and drinks. Our first stop was the Balcony Bar and Cafe – 3201 Magazine Street. It was a bit of a dive, but they had an outdoor balcony where we could enjoy the beautiful weather while snacking on fries and cider. This was also where my phone fell out of my bag, and off the 2 story balcony, almost taking out a man and his dog. Thankfully, as I ran down to get my phone, he was bringing it into the bar. My phone survived without a scratch (Thank You Otterbox), and the story still makes us laugh all these years later.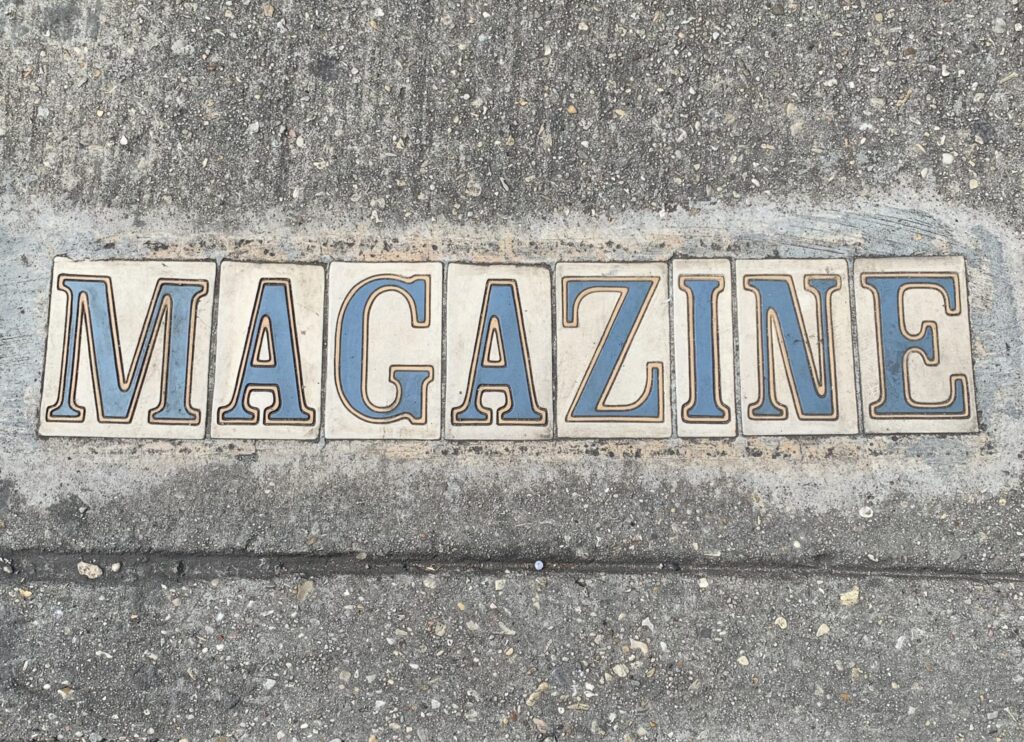 We kept walking down Magazine Street and stumbled upon The Bulldog – 3236 Magazine Street. As I said, it was a beautiful day and they had a huge outdoor patio so we decided to check it out. They have over 40 taps of local beer and cider. Plenty of options for everyone. Our last stop on the way back was The Delachaise Wine Bar – 3442 St. Charles Ave. A very cute neighborhood bistro that is voted best fries in Louisiana. They also have $5 wine specials on the weekend.  The fries were so so, but this place is worth a stop if only for the people watching from the patio.
We hopped on the Cable car back to the French Quarter for our final stop of the night, the historic Hotel Monteleone – 214 Royal St. The hotel is known for providing luxury accommodations for New Orleans travelers, but we were going to check out their Carousel Bar. The first and only rotating bar in New Orleans. A 25 seat, carousel themed, merry-go-round serving classic cocktails since 1949. It's a little overpriced, but an iconic spot, not to be missed.
Before heading back to the airport, I made one final stop for the famous muffuletta at Central Grocery – 923 Decatur Street (Note: Their original location is currently closed for repairs following damages caused by Hurrican Ida). Home of the original muffuletta, this old-fashioned grocery store is stocked with delicious Italian imports, from pasta to meats to olive oil. Just before opening, a line was already forming outside…that's how you know its good. I don't eat lunch meat so I opted for the vegetarian version.  Thankfully I ordered a half size because it was HUGE.  I honestly don't even know what was in it, but it was a damn good sandwich.
Definitely a more tame version of New Orleans this time around, but I will be back.
Previous States:
13: The Buckeye State (#13)
14: Minnesota:Land of 10,000 Lakes (#14)
Next Stop: Nashville, Tennessee