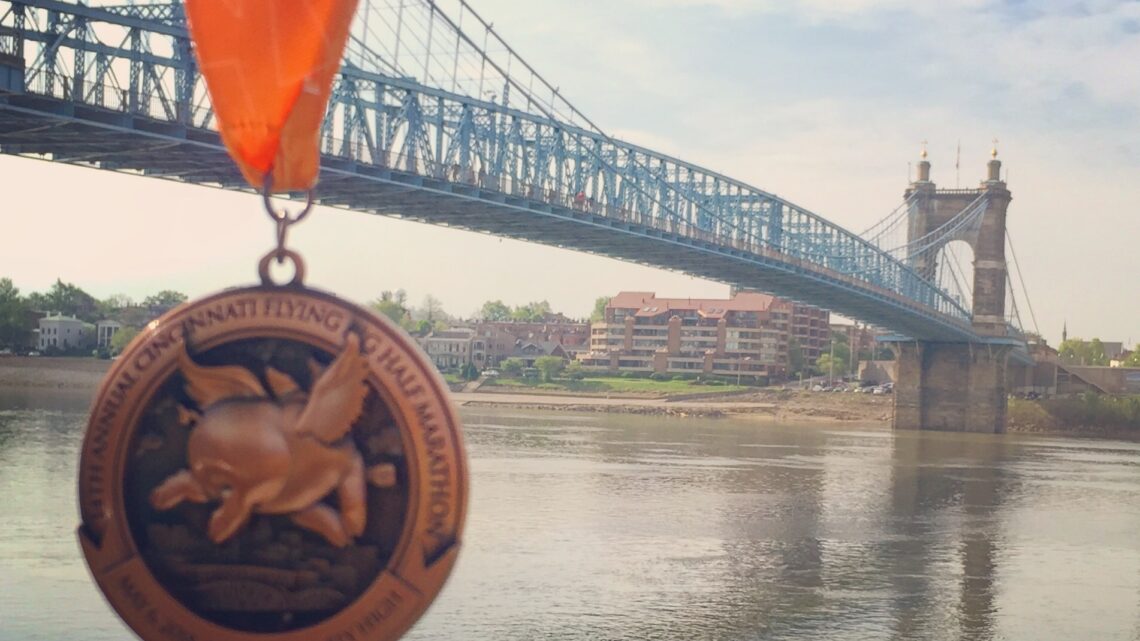 OH – IO : The Buckeye State (#13)
When trying to organize my race schedule, I often look at all the states surrounding the race I'm running. I've found that, a lot of times, when there is a race on Saturday, you can probably find one in a nearby state on a Sunday. This is exactly how I ended up in Cincinnati the day after the Indy Mini. It was a little less than a 2 hour drive from Indianapolis, so totally do-able in my opinion. I found a cute little Airbnb in Covington, KY which was just quick trip over the Ohio River from all the festivities.
Race morning, I took a quick 5 min ride, parked in Kentucky and walked over the John Roebling Suspension Bridge to the start of the race. This bridge, connecting Kentucky and Ohio, was the prototype for the Brooklyn Bridge, which might be why it looks so familiar (see above). The Flying Pig Half Marathon was filled with A LOT of pigs. Pigs in costumes, dogs in costumes, humans in costumes and obviously a flying pig on the medal. It was also filled with A LOT of hills. Why did I think Ohio was flat? My fault for not looking at the race map. It was, however, the perfect way to see multiple areas of the city that I wouldn't have seen otherwise. Part of the race goes through Eden Park which has amazing views of Kentucky and the Ohio River. The view made the hills worth it, plus, there is a pretty steep down hill toward the end. There was also tons of crowd support, so if you need a boost from strangers, this is your race.
The downside of doing multiple states in one weekend is not having enough time to do everything. I only had 1 day to explore Cincinnati, so I tried to hit all the 'hot' spots and friend recommendations. First stop was Holtman's Donuts – family owned and operated since 1960.  It's part of the Donut Trail which includes 12 donut shops throughout Ohio (this was the only shop I visited). Called the 'best' donuts in the city, but I wasn't that impressed. I usually go for the plain glazed donut, this place focused more on different/weird flavors/toppings. I assume that's the appeal, but not for me.
After the donut, I spent some time walking around the Over the Rhine neighborhood. This area was filled with cute little shops, tons of brunch options, coffee shops and bars. If I'd had more time I probably would have hung out a bit longer. I took a quick trip to Findlay Market which is supposed to be an indoor/outdoor farmers market. I only saw a couple vendors open outside selling flowers, the rest of the places inside seemed to be places to grab lunch. I was expecting it to be larger with more 'local' wares. I was kind of disappointed so I didn't spend much time here. On the way back, I stopped at Graeters Ice Cream – 1401 Vine Street. I'm not a huge ice cream fan, but when I asked for recommendations in Ohio, Graeters was the #1 recommendation. Strawberry chocolate chip seemed to be the flavor of choice, so I went with that, in a waffle cone. As I said, I wouldn't usually choose ice cream as a treat, but I would definitely eat that again. It was definitely much creamier than others I've had in the past.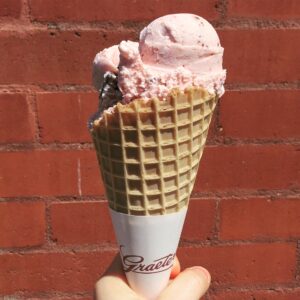 Next stop was the Carew Tower – 441 Vine Street. A 49 story art deco tower in the heart of downtown, with self proclaimed, spectacular views of the city. I took a ride up to the observation deck, in a VERY small elevator, and was greeted with 'amazing' panoramic views of downtown Cincinnati, Northern Kentucky and the Ohio River. It only cost $4, so it was well worth the view.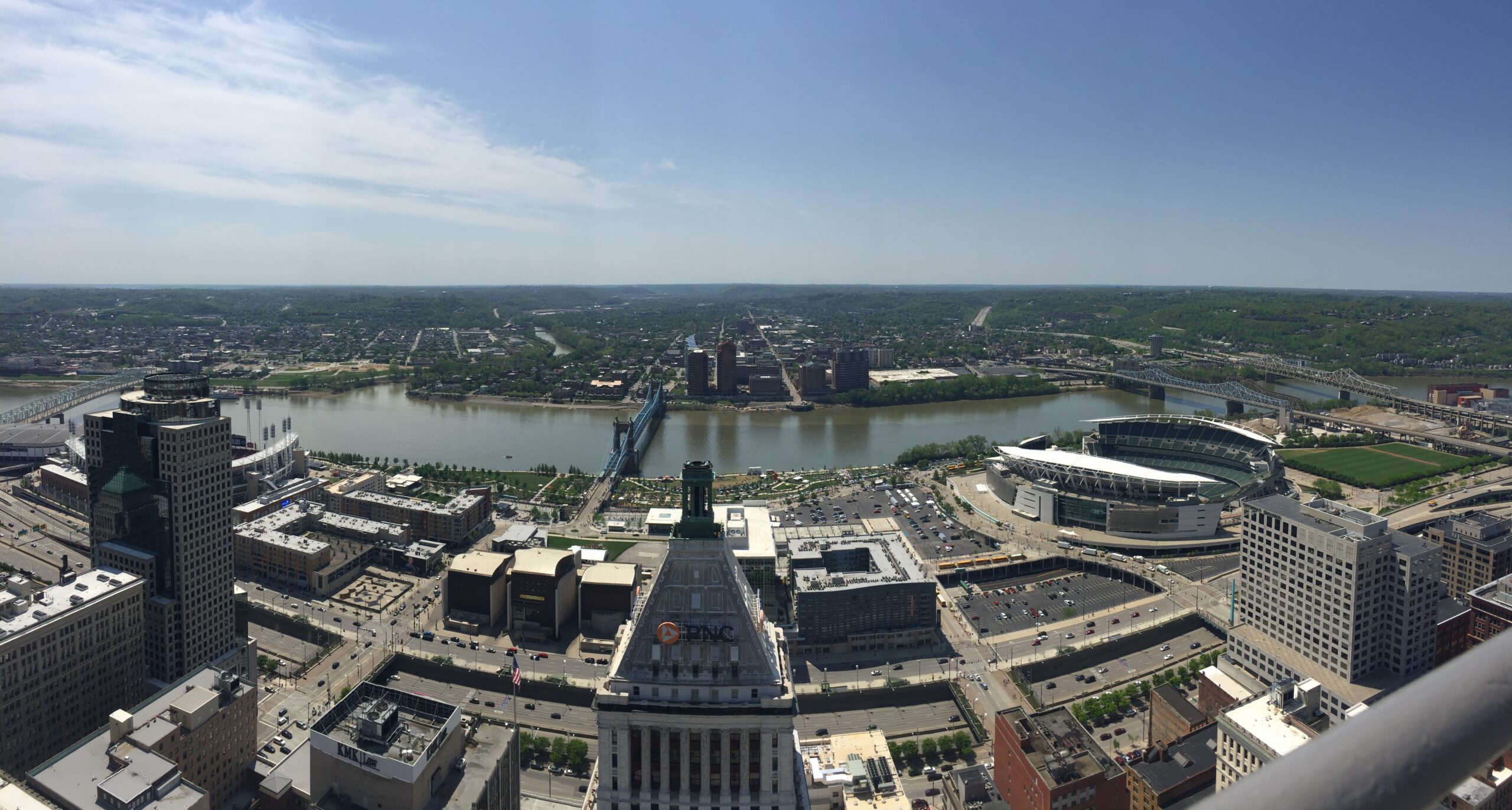 The last stop on the tour was the waterfront area. Just past the Reds Stadium is the Newport Southbank Bridge (AKA Purple People Bridge) – 425 York Street. It's a pedestrian only Truss Bridge spanning the Ohio river. It's about 1/2 mile across and it's a great place for photos (see below). Just across the bridge is Newport on the Levee, an up and coming development with tons of stores and restaurants. At the time, there wasn't much open, so I stopped at Brothers Bar and Grill – 1 Levee Way. A typical sports bar with tons of outdoor seating looking out onto the Ohio River. The weather was amazing, so I hung out for a bite to eat and a couple drinks. I would imagine it's the perfect spot to grab a drink before or after a Reds game.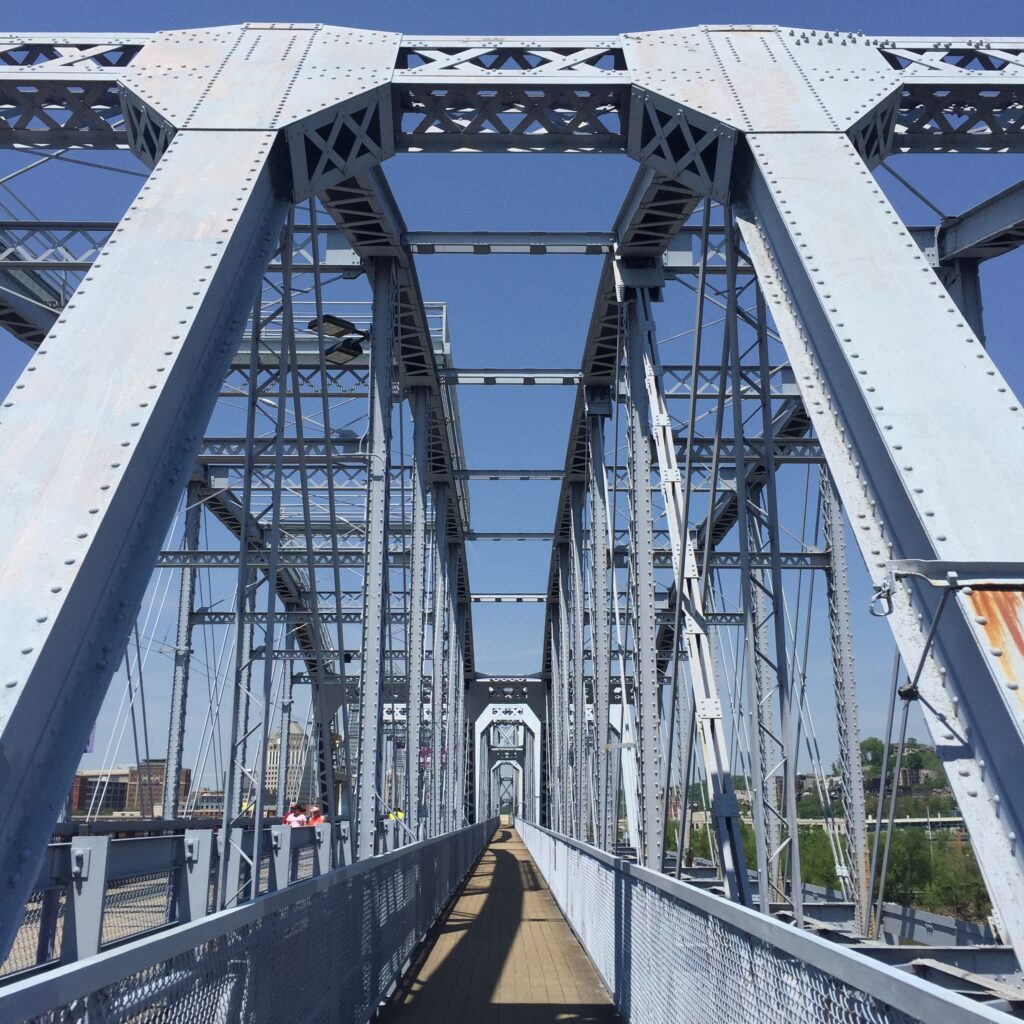 While I can't imagine making a special trip back here, if I did find myself back here one day, I would definitely hit up the American Sign Museum and the Krohn Conservatory. Both items on my list that I just didn't have time for.
Previous States:
12: The Crossroads of America (#12)
Next Stop: Duluth, Minnesota