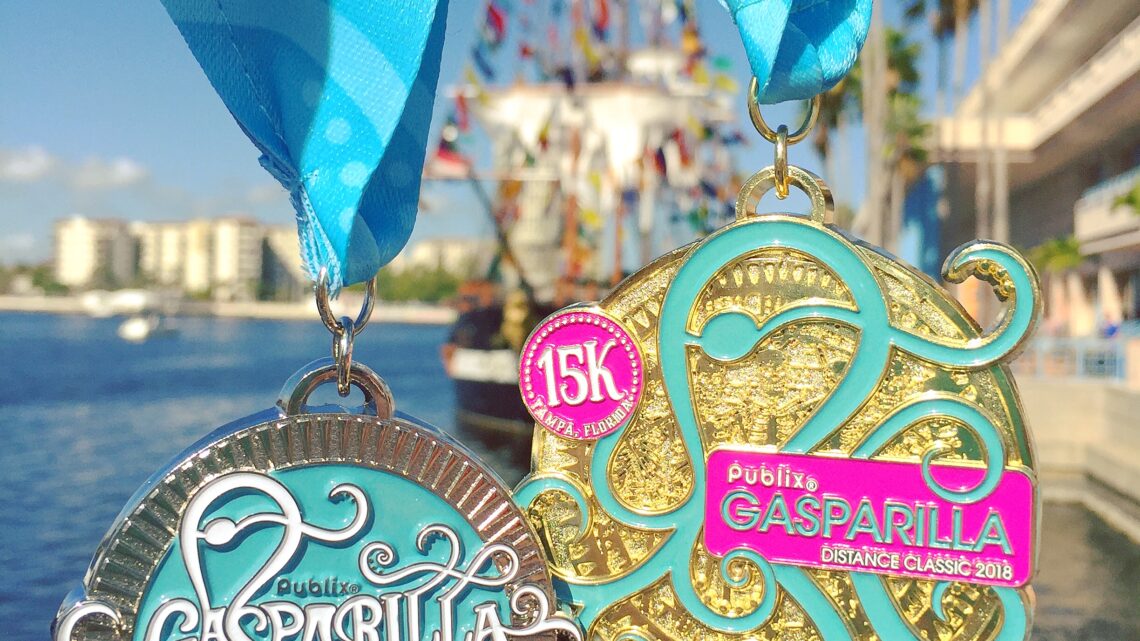 The Sunshine State (#11)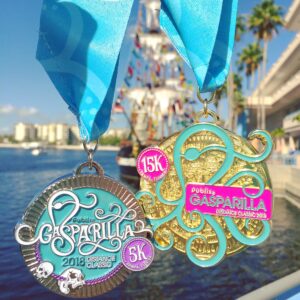 This is a story about how one should never attempt to run 4 races in one weekend. If you know me, you know I'm not one to back down from a challenge, so when I went to sign up for the Gasparilla Half Marathon, I saw this thing called the Michelob Ultra Challenge. Four races, 2 days, 30.4 miles. How bad could it be?? FAMOUS LAST WORDS!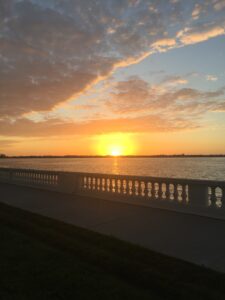 Let's keep in mind that I'm from Boston, and it's February. I left Boston with snow still on the ground and I landed in Tampa, Florida in all it's humid, 85 degree, glory. Day 1 starts with the 15K (9.3 miles). It's a little warm, but the race starts before sunrise, so that helps. The course itself is beautiful, an out and back along Bayshore Drive with great views of the Bay. After we finish, we grab our medals, and wait for the 5K to start. It's now full sun and 100% humidity, but it's only 3.1 miles, we got this! Race #2 complete, now we hydrate, enjoy the beach weather and rest for tomorrow.
Day 2 starts a little earlier, and even though the sun isn't up yet, it's already humid as all get out. The Half Marathon (13.1 miles) starts out a little different than the other races, but eventually you end up on Bayshore Drive again. We manage to eek out a respectable time, grab our medal and wait around for the 8K to start. About an hour later, we line up for the final race of the weekend. At this point, there is no shade, we've run this EXACT course 3 times already AND my legs have no idea what to do. I literally could not run. I moved as fast as my legs would take me until I could muster up a slow jog. It was probably the longest 4.9 miles of my life. I eventually finished, got my challenge medal and vowed to never do that again!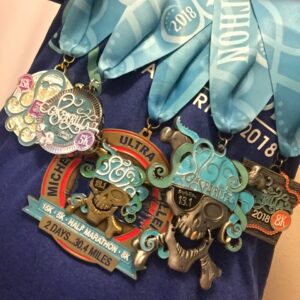 Once the running part was over, it was time to enjoy all the eating and drinking Tampa had to offer. There are quite a few restaurants and bars along the water in the Harbor Island/Downtown area.
Jackson's Bistro and Bar – 601 S Harbor Island Blvd – This restaurant/bar has both indoor and outdoor seating. I highly recommend sitting by the outdoor bar, where you have beautiful views of the Bay and the Gasparilla Pirate ship. It's also a great place to watch the sunset. They have a great mix of sandwiches, burgers and sushi.
Bahama Breeze – 3045 N Rocky Point Drive – We stopped here to get a drink on our way to lunch. It's got quite a large outdoor bar area. It was really crowded, so we ordered drinks and took them to sit by the water.
Whiskey Joe's Tampa Bar and Grill – 7720 W Courtney Campbell Causeway – This is your typical "touristy" beach bar and grill. We grabbed a high-top by the outdoor bar overlooking the beach. Good food, affordable prices and excellent views of Tampa Bay.
Green Lemon – 915 S Howard Ave – This was the pick of the weekend. A cute little place just a short walk from Bayshore Drive. Light Mexican fare with a variety of street tacos, fiesta bowls and a pretty damn delicious Sangria.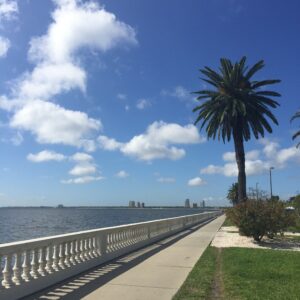 I can't say I'd visit Tampa again, but it was nice enough for a quick weekend trip. As for the race, I would recommend choosing ONE of the distances, and not going for the whole challenge. It's a beautiful course, but running it over and over and over again gets old. Based on the Half Marathon only, I'd give it 4 out of 5 stars. Scenic, flat course, awesome medals, AMAZING volunteers and a pretty great post race spread.