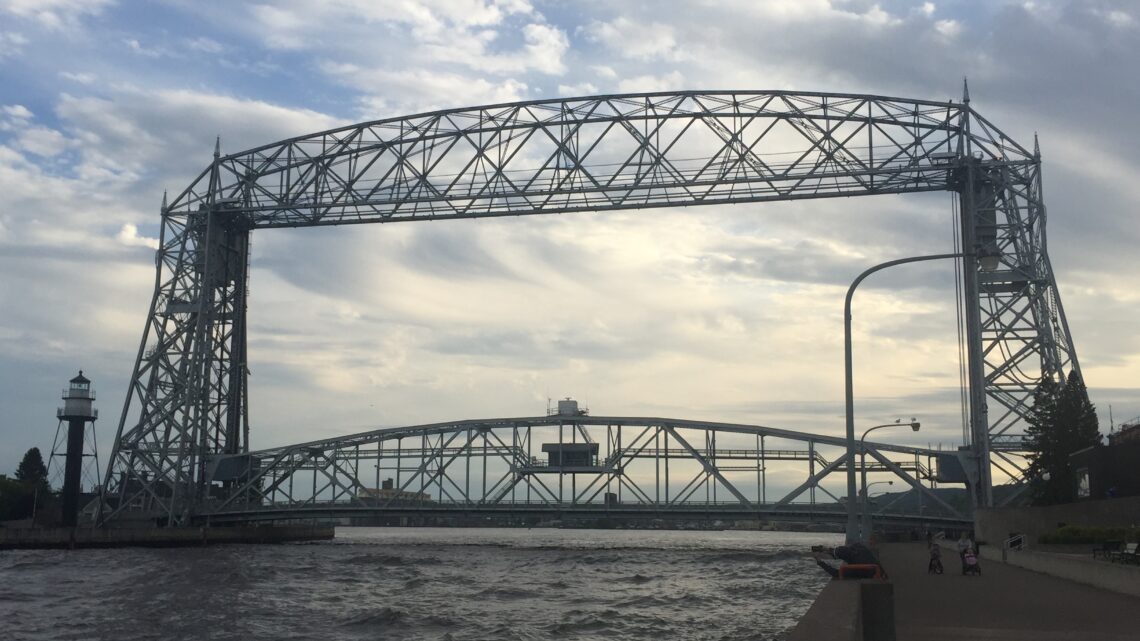 Minnesota: The Land of 10,000 Lakes (#14)
Minnesota is known as the Land 0f 10,000 Lakes. The largest one being Lake Superior, the largest freshwater body in the world. Driving up the North Shore, from Duluth, along Hwy 61 will provide some breathtaking views of this massive lake.
My BF and I got into town a couple days early, so we decided to go explore the beautiful lake front. We drove north, from downtown Duluth to Split Rock Lighthouse – 3713 Split Rock Lighthouse Rd. This lighthouse has quite a bit of history, starting in 1910 until 1969 when it was decommissioned. Split Rock Lighthouse is one of the most photographed spots in MN, probably because of the amazing views of Lake Superior. To get some great pictures of the lighthouse, I recommend taking the old tramway "trail" down to the shore line. It's a path along the old tram car that includes 171 stairs that lead down to some great views.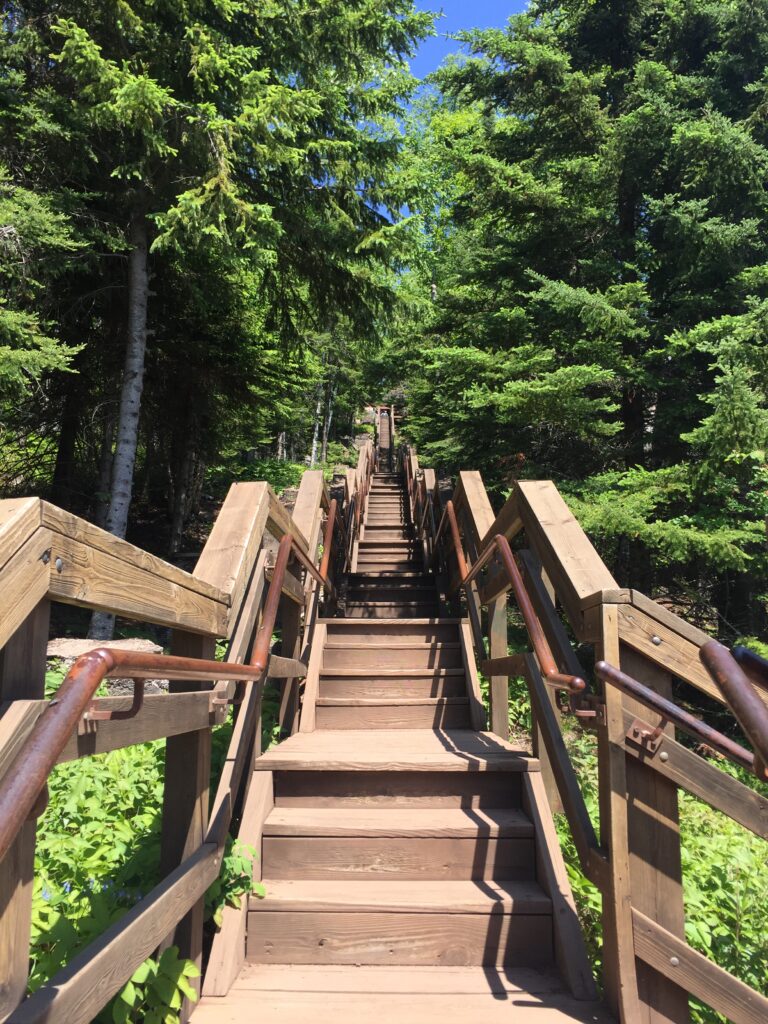 On the way back into town, we hit up Gooseberry Falls State Park – 3206 Highway 61, Two Harbors, MN. The park is full of trails for hiking and mountain biking. We went primarily for the falls. A quick walk from the visitors center will take you to a scenic rocky gorge with a series of beautiful water falls.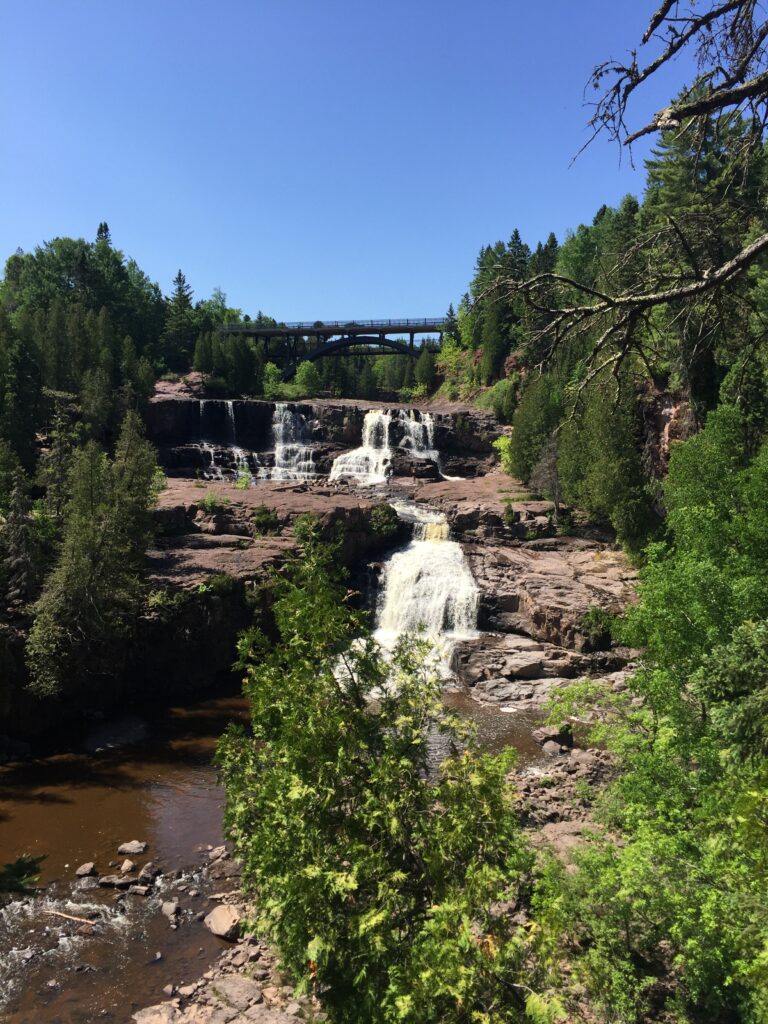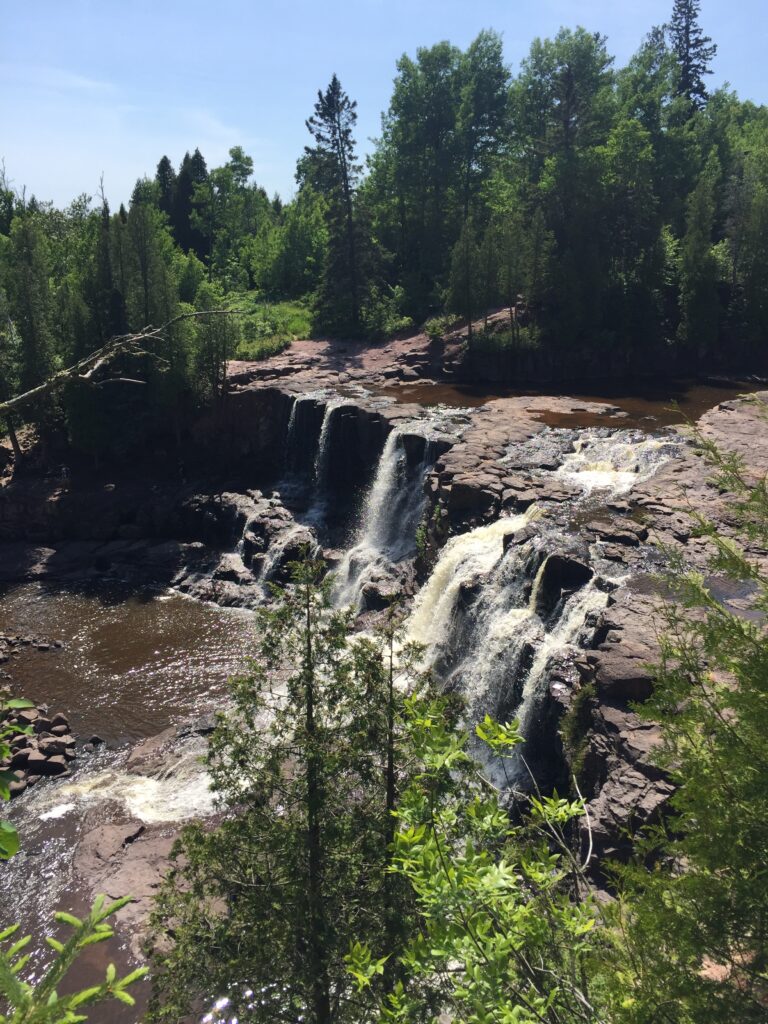 One of my favorite things about traveling to a new place, is finding those hidden gems, that you might not find on a "must see" list. One of those places was 5th street tacos – 502 7th Ave, Two Harbors. It was a cute little taco stand/shed on the side of the road that had amazing burritos for only $5. Unfortunately it has since closed, but keep your eyes open for gems like this when you travel!
Our final stop, on the way back to downtown Duluth, was the Enger Tower. It's a five story stone observation tower that sits in the west end of the city where you can see the lake and the Duluth Aerial Bridge (our next stop) way out in the distance.
Duluth, the location of the race, is a small port town that sits on the western most part of Lake Superior. The Aerial Lift Bridge, one of the main tourist attractions in the city, is located in the Canal Park District. A once bustling warehouse district, its now home to restaurants, bars and shops. The bridge itself connects the city of Duluth with Minnesota Point. If you spend anytime in Duluth you will definitely see it in action. When ships are coming to port, traffic is stopped and the entire roadway lifts in the air to let the boats pass. The picture below shows the bridge mid-rise to allow a waiting boat into the harbor.
Even though the bridge gets all the attention, the view facing the lake is pretty amazing too! The Duluth Harbor North Pier Lighthouse sits at the very end of the ship canal, guiding the boats under the aerial bridge.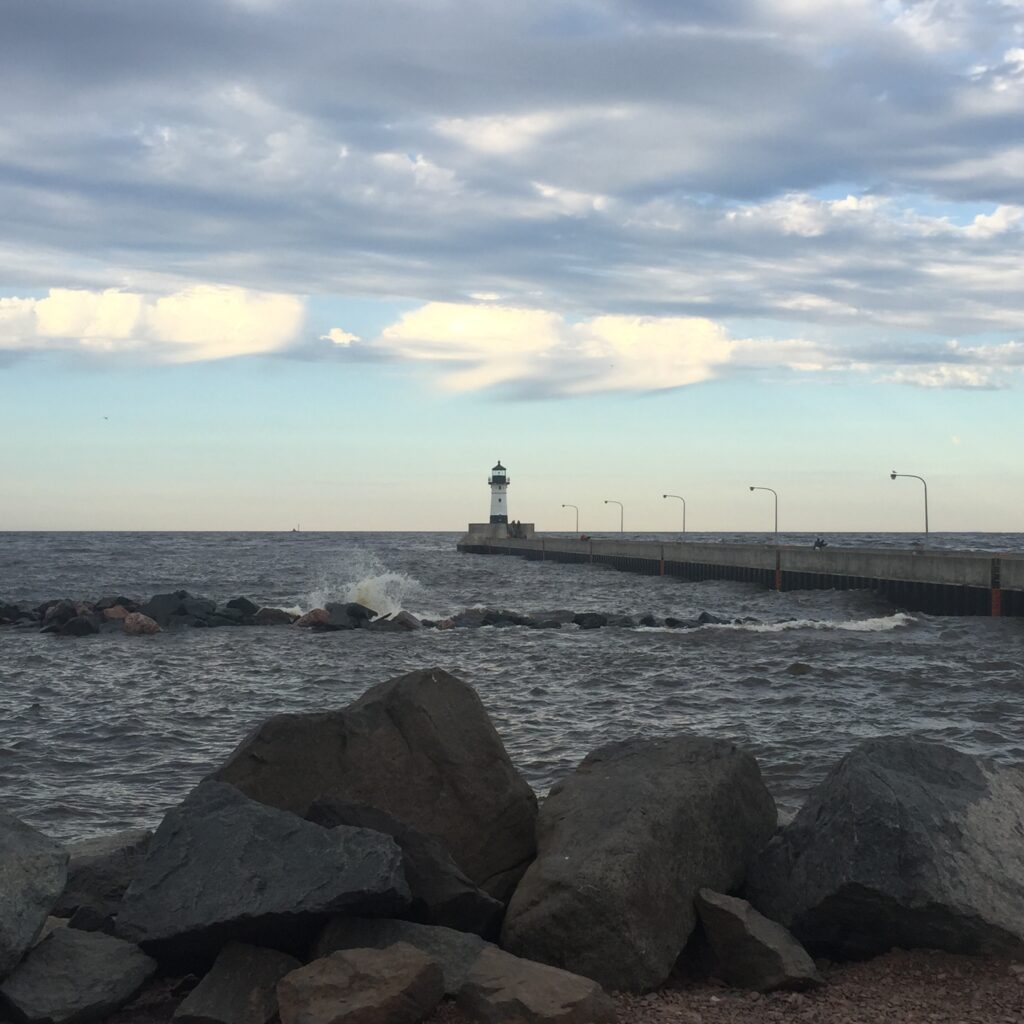 As many people know, when I book these race trips, I always ask for recommendations from friends. Especially those who live or have lived in a certain area. In all of the recommendations I got from friends for this trip, they all said you can't go to Duluth without stopping at Grandma's– 522 South Lake Ave. Grandma's Saloon and Grill has several locations in MN, but obviously you have to go to the original Canal Park location. We only stopped in for a drink and despite not getting the true dinner experience, you could definitely see a lot of history in the place. They also have a pretty great rooftop deck with a great view of the bridge. Unfortunately it was a little chilly that night, so we just grabbed a seat at the bar. It was at Grandma's that I found my new favorite local cider, Loon Juice. It's pretty much all I drank while in Duluth (besides water, obviously). I still check every now and then to see if they started distributing on the east coast…no such luck!
Friday was spent mostly hanging around the canal park area. First stop, breakfast. Amazing Grace Bakery Cafe  – 394 S. Lake Ave. Cute little basement level bakery that served homemade muffins, pastries and some breakfast items. It seems to have had quite the upgrade since we've been. Now serving as a small gourmet grocery store as well as a bakery.
After breakfast we made our way up the Duluth Lake Walk, headed toward Fitger's Inn. We stopped at a few shops along the way, and even found this local shop you may have heard of called Duluth Trading Company (LOL)! Just as we were about to walk into Fitger's, the skies opened up. We were walking through the shopping area on our way to the BrewHouse, when the power went out…in ALL OF DULUTH. We ended up hunkering down with a small shop owner, where we watched the storm through her little shop window. The dark clouds/rain moving over Lake Superior was quite intense. Once the power came back on (about an hour later), we looked at the weather radar (see below) and decided to stay put and get a drink until it let up a little.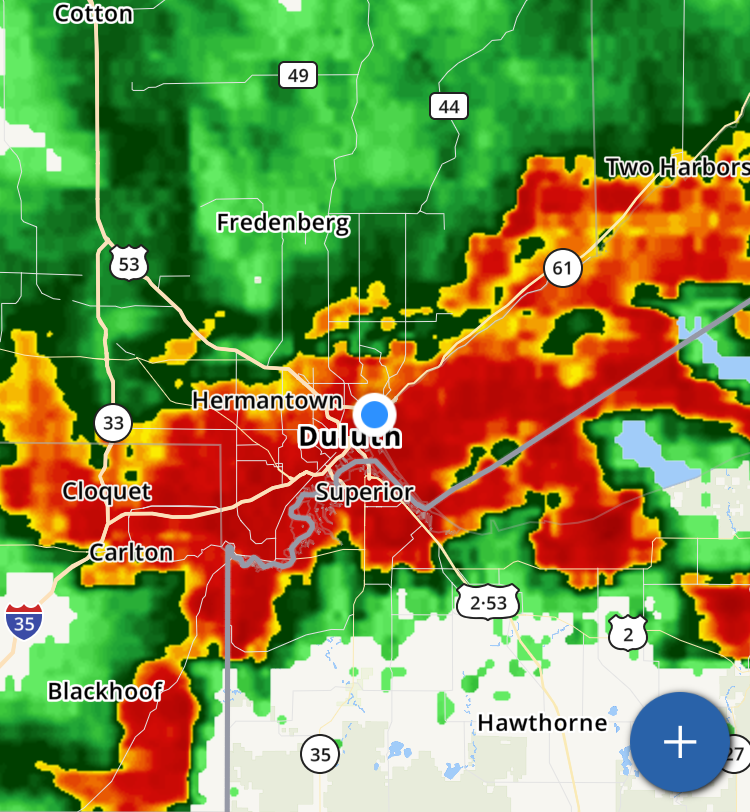 We found ourselves at The Boat Club, inside Fitger's Inn. We stopped in for a drink and one of us ended up with a meal. I present to you the Signature Lobster Bloody Mary! Apparently, its worth a stop if you are ever in the area.
Now that the storm was letting up a little we headed back toward the race expo. Thankfully we were able to catch a DTA bus in front of Fitger's to take us directly to the DECC. The Packet pickup happened to be in the same building as the Duluth Curling Center. Home of the 2018 US Men's Gold Medal Curling Champions! Sadly the Curling Center was closed, but they had a pretty cool tribute to the olympians on the door outside.
Before heading back to the hotel, we grabbed some dinner at Canal Park Brewing – 300 Canal Park Drive. They had a pretty cool patio set up with yard games and amazing views of the lake. Had it been a nicer day we would have totally sat outside, but we opted for the dryer indoor option. The menu was a mix of burgers, sandwiches and bar bites. I opted for my usual pre-race meal, the black bean burger. Highly recommend.
Race Day!! Most serious runners have heard of Grandma's Marathon. I was running it's shorter version, dubbed the Gary Bjorklund Half. This race sells out almost immediately, so if its on your bucket list find out when registration opens and put it in your calendar. The weather was pretty dicey overnight, and it was totally becoming a possibility that they were going to cancel the race if the thunder and lightning didn't blow through by morning. It made for quite a restless night of sleep. Luckily, in the morning it was just slightly overcast and VERY FOGGY.
The race is a point to point, so you have to take a shuttle bus to the start and then run back to the finish. I managed to snag a spot at a hotel directly across the street from the Miller Hill Mall Shuttle location. I highly recommend this option, it made the morning much less stressful. Once dropped off, you have to walk a little ways to the start, past a ton of porta potty. Pro Tip: DO NOT WAIT at the first bathrooms you see. The lines were so long at the first set of porta pottys, but just a short walk further and there were no lines at the ones closer to the start. The race itself is fairly flat, but has some rolling hills around miles 7-9. It was a little difficult to see the lake while running because it was so foggy but it was still a beautiful course. The finish is right near the Aerial Bridge, which makes a great location for photos. I highly recommend this race!
Following the race, we were on the search for some cheese curds because why not? We were pretty close to Wisconsin, so we decided to take a drive across the border. Instead of cheese curds, we found the Old Firehouse and Police Museum – 402 23rd Ave E, Superior, WI. You can take a free self guided tour of an 1898 Firehouse, that includes many of the original fire rigs including the chief's horse drawn carriage. Not sure if it's worth making a special trip, but if you're in the area, I'd check it out. On the way back, we found Thirsty Pagan Brewing – 1615 Winter Street, Superior WI. Again, no cheese curds, but we ended up with some pretty good pizza and drinks.
After driving back to Minnesota, we met up with a local friend for drinks at Bent Paddle Tap Room – 1912 W. Michigan St. I don't drink beer, so this place wasn't really in my wheelhouse, but it was a fun space with a lot of indoor and outdoor seating. It seemed to be super popular. We then headed down the road to Clyde Iron Works – 2920 W. Michigan St, for some dinner. I loved this space. It used to be a manufacturing facility that built some of the largest cranes in the world. It is now transformed into a restaurant and event space. I love when old factories and buildings are repurposed, but they keep a lot of the old charm. They also had Loon Juice on tap, so win win.
Because our first visit to Fitger's – 600 E Superior St didn't go as planned (see power outage above), we wanted to go back and give it another try. As Duluth's first brewery, I felt like it couldn't be missed. There was a bit of a wait for a table, so we grabbed some seats at the brewhouse bar and ended up spending the rest of the night there. We made friends with some local girls and the bartender, who was letting me taste all the ciders. We had quite a few drinks AND we finally found cheese curds. I wasn't really sure what I was expecting, but cubed fried cheese was not it.
On our last day in Duluth, we took our final walk along Lake Superior. We took some more pictures of the aerial bridge and visited the Leif Erikson statue (#skol) which sits along the waterfront park. Despite it being early morning, our last stop in Duluth needed to be the Portland Malt Shoppe – 716 E. Superior St. This cute, old school, window serve ice cream shop was recommended by a couple people and it did not disappoint. I'm not really an ice cream person, so this is saying a lot. We went with the traditional malt, topped with whipped cream, a cherry and a vanilla wafer. Definitely worth it!!
Previous States:
12: The Crossroads of America (#12)
13: The Buckeye State (#13)
Next Stop: New Orleans, Louisana